Numerous Trade Business Owners dream of owning a holiday abroad myself included at one point. Having now purchased two properties abroad of which I now live in one and rent the other I am well placed to advise on the good (and the bad) in doing so.
A few of my business coaching clients are also now at the stage of looking into property abroad and I will alsways be an advocate of this.
Since childhood I had always dreamed of owning abroad and initially thought the South of France however as I got older I realised that the South of France probably wouldn't give me the climate I was hoping for so opted for the south of Spain and The Costa Del Sol…
I'm so glad I did.
Owning a place here is the best thing I ever did, to simply have the option after a hard week to just disappear is fabulous and the longer you own the more you see and do. I was worried at first that it would be like a hot-tub in that once you have it you rarely use it but if you choose the right place you will want to be there all the time as will the family.
Buying on the coast also meant there was always stuff to do, yes it quieten downs a lot in the winter (unless you go to Marbella, Benidorm etc – yuk!) but most places are still open it is just quiter and less vibrant depending on location.
Not having to pack a case everytime and getting to know the local area and perhaps even a bit of Espanol is fun, it adds to your life in my opinion and grows you too.
Buying in Spain was actually a very simple process however finding the right property certainly at the beginning wasn't easy. We have very little idea what we're looking for other than the dream homes we see advertised or from watching a place in the sun. Hopefully this blog post helps you out somewhat.
Finding the right location is without doubt the most important part of the process and you simply cannot do this without visiting these places, We visited the north and places like Villamartin, Murcia, Los Alcazares, Valencia, Godeletta and many many more before we can south. Once south we visitited the whole coast and just loved it all – we could have bought anywhere but settled just outside Estepona. it's VERY important to understand what you want and to set a list of must-haves before you begin otherwise you're simply going from place to place with a sales rep who is as clueless as you…
Our must have's were this with a budget of 150k in 2018
– Walking distance to beach. Everything worthwhile in Spain happens on or near the beach, there's little infrastructure on the coasts far outwith the beach therefore in order to have activities, restaurant and bars, fun stuff to do and so on it's vital you are near the coast.
– 2 Bedrooms – We needed two bedrooms knowing that we could use the lounge sofa bed as a third bedroom if we had to.
– Close to other amenities such as supermarkets, shopping centres and so on. I really didn't want to be driving 20-30 minutes for a loaf of bread!
– Communal Pool I needed a communal pool and didn't particularly fancy my own pool (cleaning, maintenance etc)
– Low Community fees. We wanted community fees to be low as we weren't planning on living here so one lesser monthly cost to add to electricity, council tax and so on. More about them later..
And that was pretty much it and we landed in La Duquesa and a fabulous urbanisation close to Estepona. We paid £125,000 for this property plus £15,000 in taxes totalling £140,000 – It's was a bargain especially as the seller originally wanted £155,000. There is normally always 5-15% movement in costs and sellers expect this. 4 years on and the property is now valued at 210,000 to give you an idea of house price increases here (they will slow soon)
4 years later having utilised the place 8-12 times per year we were ready to move here permanently ; our needs changed which meant our budget had to also, we decided max 600k.
4 Bedroom, we only needed two bedrooms but needed office space and a place for family to sleep when they visit (turns out they are using the 2 bed above but that may change)
Space – We need much more space than the above and something similar to what we had back in Scotland (5 beds)
Communal or Private Pool – Living here we knew we could upkeep a pool so a private pool was an option but a quiert communal one was still preferred.
Community – We needed a community rather than holidaymakers or full of Spanish mainly because we wanted to make more friends and be introduced to more activities and hobbies.
And again after kissing many frogs we found our perfect home, 4-5 bedroom townhouse, 15 minute walk to the beach, sea and sunrise views, gardens, 6 terraces inc a huge roof terrace and so on…it's perfect but again before we started we knew pretty much what we wanted.
And that was it, it's very important to write down your wants before you go and this narrows down you options once here saving you LOTS of time – I know property hunting in Spain sounds like fun (and it is) but after 10-12-20 houses visited it can get very frustrating. this can be minimised loads with a simple 'want list and budget"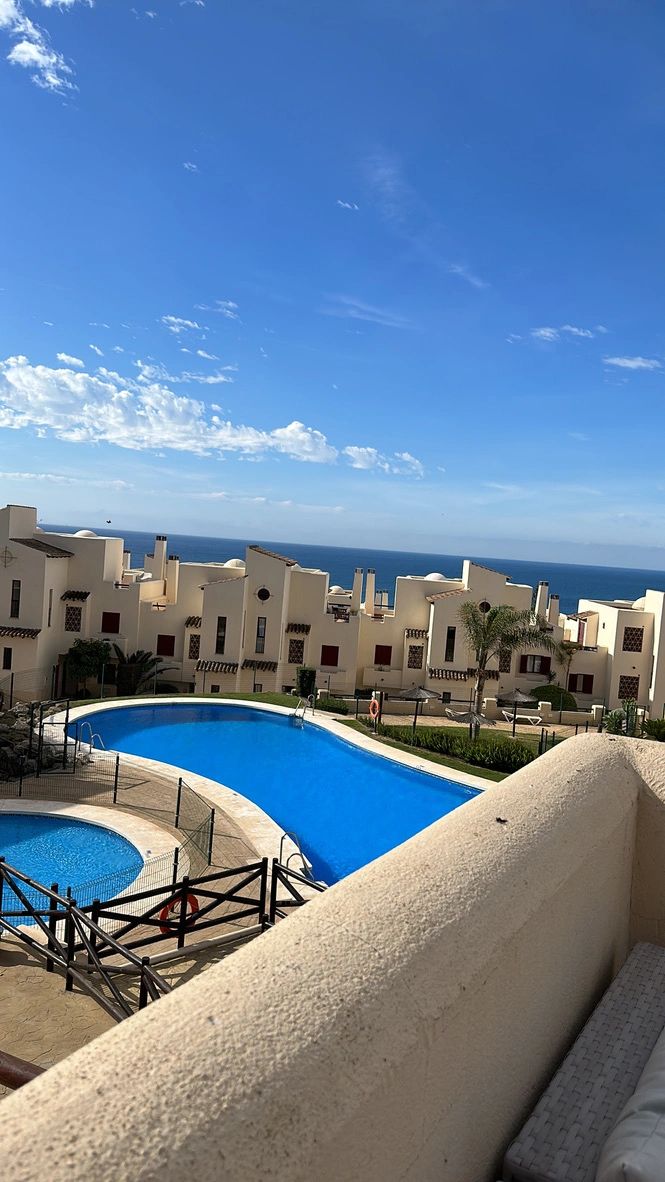 Do not do what I done and tell the agent your happy to spend £200k but can stretch to £500k – They can't cope with that haha! Make your budget precise!
When choosing a property aswell unless you are a mad-golfer more often than not you want to stay away from Golf Resorts, they may seem cheap but in winter time it's a ghost town and community fees can be very high. Our community fees are only 85 euros per month.
Overall you can get a nice 2 bedroom apartment not too far walk from the coast for around 125-150k pretty much all over Spain outside the high end places such as Marbella where it can easily double.
Other financials to consider…
Energy costs are high here and whether you use the electric or not you still pay around 35 euros per month.
You pay council tax here of around 1000 euros per year
Non resident tax is minimal unless rented out in which case its around 19%
Bringing your car here can be expensive to import as a vehicle can only be in the country 6 months. A car is vital in my opinion but rentals can be as cheap as 15 per day.
Remember whatever price you see a property for, add around 11% for taxes, lawyers etc.
Also be mindful of clickbait – if a property seems too good to be true it normally is, estate agents here leave property that has sold ON their sites for years after it's sold to hook you in and get you to email or call them – they will generally hound you afterwards.
and lastly try to stick with one agent rather than 3 or 4. Most agents here have access to ALL the other agents properties so there is no need to go to 2-3-4 agents normally. Agents receive 5% commission on all sales – it's the same all over Spain. if they sell you a property from another estate agent they split the commission.
Once I have been here permanently a little longer I will replay this post on living here – to stay updated on latest blog posts click here
Best Regards
TRADECAOCH